Other Products
Design
To ensure ease of manufacturing and quality of the products we are intimately involved with our clients in product development and tooling design.
Process control & safety
We are using a range of manufacturing processes to build products for our clients. These include traditional open mould, closed mould and vacuum bagging infusion technologies. All work is being done in well ventilated, dust free environment and when required in climate controlled conditions.
Materials and products flow throughout the factory has been analysed and implemented to ensure smooth production progress with clearly defined quality checks points.
Environmental licensing
Our manufacturing site has been voted to be "the cleanest in the industry" by the local city council authority. We take pride in ensuring a clean proper working environment. Materials are used with minimal waste and we are implementing good environmental practices.
Innovation
We are one of the biggest user of the closed mould process in the Australian industry for large composite components such as truck bonnets. Thus ensuring good productivity and quality of moulded products (consistent quality of parts).
Q1 status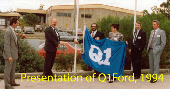 Marky Industries achieved a Q1 status with the Ford Motor Company and was the sole supplier of the composite parts prior to Ford Truck closure in Australia. Marky Industries supplied in excess of 100,000 parts in that time including bonnets, dashes, fan strouds and fenders. Our Q1 status allowed us to be a world wide supplier of composites within the industry.
Work instructions and quality checks
We have extensive system of work instructions integrating a written and visual format to our in-house manufacturing processes. Thus ensuring that all steps of manufacture are covered and explained.
Quality checks are used extensively at various stages through the manufacturing process beginning with quality check of incoming goods, checking products at pivotal stages of production and finishing with final checks for outgoing goods.
Project and production progress tracking
Project and production management needs are met with extensive use of MS Project by developing relevant schedules to track progress and resources usage. This is complemented with careful choice of product and materials flow throughout the factory.